Jamai Raja Zee Bangla Serial
Zee Bangla has come up with an altogether new TV show named Jamai Raja. Let's have a look at its  cast, story line et all.
Jamai Raja Story Line
Due to unavoidable circumstances Ishaan, a middle-class guy gets compelled to start living in the house of his in-laws. His mother in law Basabdatta is an extremely ambitious business-woman and whereas her daughter Nilasha  has an altogether different mindset. Ishan gets entangled in this not so friendly situation. Later on he starts doing the balancing act as he has to live up to the expectations of his parents, wife and in-laws.
Does he succeed in this tight rope walking ?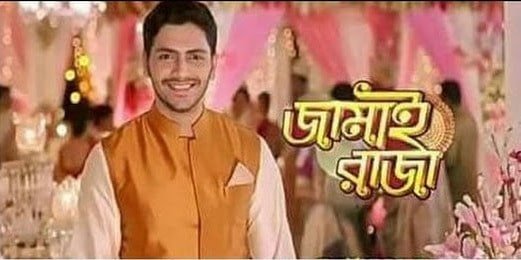 Arjun Chakraborty makes a comeback in the small screen arena. Koneenica Banerjee has also come up with another stint with a Zee Bangla serial Andar Mahal. Arjun became quite a sensation after his debut with TV show Gaaner Oparey. Will he be as impressive this time as well as he was then ? Only time will tell.
Cast & Crew :
Director : Gautam Banik
Music : Jeet Gannguli
Written by : NK Salil
Title Song : Sayan
Star Cast :
Arjun Chakraborty as Ishan
Sreema as Nilasha
Chaiti Ghoshal as Basabdatta
Starts 5th June 2017 onwards,  Monday to Friday at 10 PM
More > Kajallata Serial Colors Bangla
Jamai Raja : Watch latest episode :