Password Bengali Movie
Password is an upcoming Bengali movie scheduled to be released on 4th October 2019. Have a look at cast, story, trailer, songs, show times, posters . A film Dev, Parambrata Chattopadhyay, Paoli Dam, Rukmini Maitra and Adrit. Its directed by Kamaleswar Mukherjee and music by Savvy.
After Chander Pahar, Amazon Obhijaan and Cockpit, Kamaleswar again ties up again with Dev for this pot boiler. Whereas audience will hopefully enjoy Dev and Rukminis on screen chemistry in this film, though they wont be love birds here.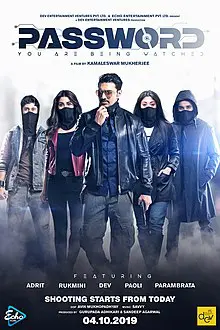 Story :
As you know www is a world wide trap. In many occasions we get trapped unknowingly. Technology does have its pros and cons. The moer we proceed towards digital world, the more we face cyber threats. Our money vanishes from our bank account. Not to talk about identity theft, which is rampant. Its not a very tough job to gather PAN, Passport etc. details of a person.
Kamaleswar Mukherjee's film rotates around this concept of cyber world. The film talks about its inherent traps. And digital surveillance. At one end there is an International cyber terrorism gang named Onion. Parambrata Chattopadhyay heads the same. Paoli Dam assists Param in this unholy game. They have become a nightmare for national security. At the other end there is Cyber cell top cop Rohit Dasgupta. Dev portrays the role of Rohit. So, to counter Onion gang Rohit ties up with an ethical hacker. Rukmini Maitra enacts the role of an ethical hacker. Rohit ropes in Adrit Roy as well.
Is Adrit a double agent ? Whose side is he in ?
Cast & Crew :
Producer : Dev
Director : Kamaleswar Mukherjee
Story & Script : Rana Mukhopadhyay
DOP: Avik Mukhopadhyay
Music By: Savvy
Creative & Publicity Designer: Tanmoy Das.
FX and Title Design: Shayan Saha.
Password Bengali Movie Star Cast :
Dev
Rukmini Maitra
Paoli Dam
Parambrata Chatterjee
Adrit Roy
পাসওয়ার্ড বাংলা সিনেমা – দেব , ছবির মুক্তির দিন