Ekhane Akash Neel New
New season of Ekhane Akash Neel 2019 is coming up in Star Jalsha. Have a look at its cast, story line, songs and episodes.
It was 2008. TV-viewers were getting matured day by day. Bengali TV channels were airing variety of shows to keep them engaged. In that 2008 young girls from school and colleges fell in love with Dr. Ujan. Eventually he became a crush overnight. Whereas young guys were dumb stuck by sweet yet short-tempered girl Hiya. Several years have past. But people still remember Ujan-Hiya aka Rishi Kaushik and Aparajita Ghosh Das. A superb script and a strong cast did the trick.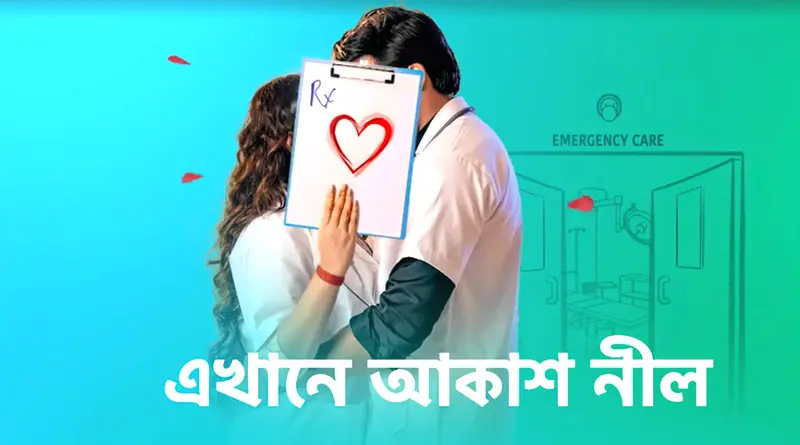 Ekhane Akash Neel 2019 is going to make a comeback in a new avatar. The background will be in congruence with current scenario of 2019. Though the new promo of this Star Jalsha serial does not reveal anything about cast. Rishi Kaushik and Aparajita Ghosh Das were so popular as couple, that even after several roles as couples together tele-viewers still recall them as Hiya and Ujan only. Thanks to their riveting on screen chemistry.

Ekhane Akash Neel was quite similar to Sanjeevani. Now Sanjeevani's new season is already a hit. So one can expect that this new season of EAN would also be successful. But there will be huge expectation from the viewers. Will they be able to meet the expectations ?
Old season had a ensemble cast, the likes of Saswata Chatterjee, Kamalika Banerjee, Mithu Chakraborty, Arindam Sil, Saswati Guha Thakurta, June Malia, Tota Roy Chowdhury, Manjari Priya Paul, Sneha Chatterjee, Debolina Dutta, Ushasie Chakraborty, Ekavai Khanna, et all.
Ekhane Akash Neel New Cast
Sean Banerjee as Lead Actor
Anamika Chakraborty as Lead Actress
Kunjo Chaya Serial Star Jalsha

নতুন জুটি এরা কারা